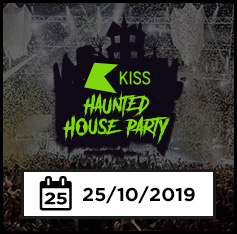 WHAT IS IT?
KISS' 2019 HALLOWEEN EVENT WITH ALL YOUR FAVOURITE ACTS PERFORMING LIVE AT ONE OF LONDON'S MOST ICONIC VENUES, THE SSE ARENA, WEMBLEY.
WHEN IS IT?
FRIDAY 25TH OCTOBER 2019.
WHAT TIME DOES IT START?
MAIN DOORS OPEN AT 6PM WITH KISS DJs UNTIL 7.30PM WHEN THE SHOW STARTS. PLEASE ALLOW PLENTY OF TIME FOR SECURITY CHECKS AT THE VENUE.
WHAT TIME DOES IT FINISH?
ALL WILL BE DONE AND DUSTED BY 11PM.
HOW DO I GET THERE?
HIT this link FOR INSTRUCTIONS ON HOW TO GET THERE.
IS THERE AN AGE LIMIT FOR ATTENDEE'S?
THIS IS A HALLOWEeN EVENT AND CONTENT MAY BE UNSUITABLE FOR CHILDREN. THOSE UNDER THE AGE OF 14 MUST BE ACCOMPANIED BY A RESPONSIBLE ADULT OVER THE AGE OF 16.
UNDER 14S ARE NOT PERMITTED INTO THE STANDING AREA (14 YEAR AND 15 YEAR OLDS MUST BE ACCOMPANIED BY AN ADULT, AGED 16 OR ABOVE.
WILL THERE BE DISABLED ACCESS?
OF COURSE! WE WANT EVERYONE TO COME DOWN AND HAVE A GREAT TIME! – IT'S THE KISS WAY!
CAN I BRING MY OWN FOOD/DRINKS?
NO FOOD OR DRINK CAN BE BROUGHT INTO THE EVENT. WE'LL HAVE LOTS OF DRINKS AND SNACKS ON SALE AT THE EVENT.
PLEASE NOTE THAT THE VENUE WILL BE RUNNING A CASHLESS SYSTEM ON THE NIGHT. PLEASE BRING DEBIT/CREDIT CARDS ON THE NIGHT.
CAN I SMOKE?
THERE WILL BE NO READMISSION AT THIS EVENT AND NO EXIT FOR SMOKING.
I CAN'T GO ANYMORE, CAN I GET A REFUND?
UNFORTUNATELY TICKETS ARE NON-REFUNDABLE.
I HAVE A QUESTION ABOUT MY TICKET
PLEASE CONTACT YOUR POINT OF PURCHASE FOR MORE INFO.
WHAT ARE THE AUTHORISED TICKETING AGENTS?
WE RECOMMEND THAT YOU DO NOT BUY A TICKET FROM ANYWHERE OTHER THAN OUR OFFICIAL TICKETING OUTLETS, AXS AND TICKETMASTER, TO AVOID ANY DRAMAS.
WILL I BE SEARCHED ON ENTRY?
FULL SEARCHES AND METAL DETECTORS WILL BE A CONDITION OF ENTRY AT THE EVENT.
CAN I BRING A BAG?
LARGE BAGS ARE NO PERMITTED AND THERE ARE NO CLOAKROOMS OPERATING IN THE VENUE. FOR SECURITY REASONS, BAGS NO BIGGER THAN APPROXIMATELY 35 (W) X 17 (D) X 42 (H) CM WILL BE ALLLOWED IN.
CAN I COME IN AND OUT OF THE EVENT?
THERE IS STRICTLY NO READMISSION. IF YOU LEAVE THE EVENT YOU WILL NOT BE ALLOWED BACK IN.
DO I HAVE TO WEAR FANCY DRESS?
IF YOU WANT? IT'S HALLOWEEN AFTER ALL! DON YOUR BEST FANCY DRESS.
HOWEVER, DO HAVE A THINK ABOUT WHAT YOU'RE WEARING TO MAKE SURE NOBODY WOULD BE OFFENDED BY YOUR OUTFIT. PLEASE DO NOT BRING ANYTHING THAT IS A PLASTIC WEAPON AND PROPS ARE NOT PERMITTED INTO THE VENUE FOR HEALTH & SAFETY REASONS.
MASKS ARE ALLOWED, BUT UPON ENTRY YOU WILL BE ASKED TO REMOVE THEM WHILST YOU ARE SEARCHED. ANY SUSPICIOUS BEHAVIOUR DURING THE EVENT WILL RESULT IN A MEMBER OF STAFF ASKING TO REMOVE YOUR MASK.
THE VENUE RESERVES THE RIGHT TO CONFISCATE OR REFUSE ENTRY.
CAN I TAKE PHOTOS?
WE ACTIVELY ENCOURAGE PHOTOGRAPH TAKING, PHOTO BOMBING AND EXPECT SELFIE STANDARDS TO BE HIGH BUT NO SELFIE STICKS IN THE VENUE! PLUS PROFESSIONAL CAMERA EQUIPMENT AND PROFESSIONAL CAMERAS WITH A DETACHABLE ZOOM LENS ARE A NO NO! DON'T FORGET TO HASHTAG YOUR POSTS WITH #KISSHAUNTED